---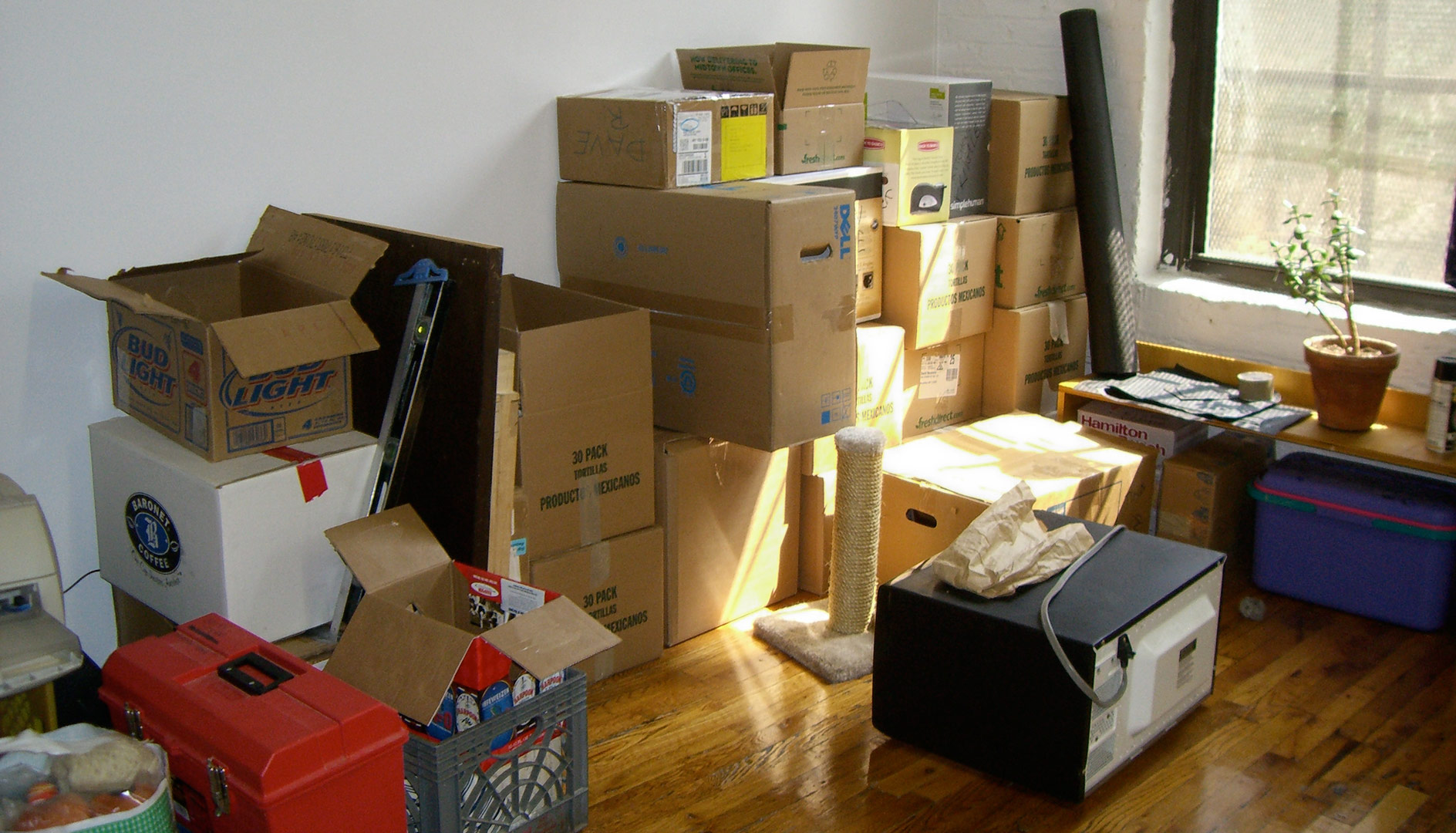 © Becky Stern https://www.flickr.com/photos/bekathwia/
"Yes, let's do it!"
After so many years, we were finally going to realize our dream of pedaling around the world!
We relished the moment. That is until we entered our spare rooms…
They were cram-packed with books and CDs. But even worse was our attic. There we had managed to stack crates to the ceiling, filled with tools, slides, photo albums, and assorted junk.
What were we going to do with it all?
After checking out how much storage costs, (Aigh!) We set about getting rid of it.
The early optimism soon turned to despair. There is nothing more disheartening than spending entire weekends sorting stuff. Then afterward looking around to see that you've hardly made a dent.
Russ Roca and Laura Crawford of The Path Less Pedaled also downsized before their trip. Read about it here, here, and here.
"You own more than you think you do. And it will take longer than you think it will to get rid of it all."
For those people who don't want to get rid of too much, here are some long-term storage tips.
Start early because you need more time for sorting.
We were never able to get rid of everything in one go. 75% would either go on the recycled paper stack, the sale pile, or in the bin bag. But 20% ended up on the 'save' pile. "I just have to keep this!"
It was an emotional thing. We ended up re-visiting our 'keep' pile several times since it became easier to purge things after we re-visited it.
Plus we regularly came across items that brought back memories, such as old school yearbooks. So we'd stop sorting to page through the books, remembering those days and our fellow students. Digging through our belongings turned out to be a bit emotional at times.
Photograph sentimental stuff
Take pictures of souvenirs and sentimental items. Even though you haven't looked at them for years (because they were buried underneath the rest of your belongings) it's still emotionally difficult to get rid of them. By taking pictures that you can view later, it's easier to bin them.
Set analogue media over to a digital format
We're from an earlier generation. So our house was full of records, CD's, cassettes, photos, and analogue slides. My husband couldn't bear to lose any music and he spent innumerable hours digitalizing it.
For the analogue slides, we were able to get hold of a slide scanner with an automatic feed. Even though it took a couple of months to scan them all; it didn't cost that much effort.
We also ended up digitalizing all of our photographs via a flatbed scanner and only saving a shoebox full of our most sentimental snaps.
We both worked full-time until just before our departure date. So that only left weekends for sorting, trip planning, and selling off our possessions.
As everybody knows who has ever sold something via the internet, it's a time-consuming process. You have to research prices, take good photos, write descriptions, etc. etc. etc. We just didn't have the extra time to do it and ended up only selling our larger, pricier items that we didn't regularly use.
Smaller items were donated to friends and a second-hand store bought our used furniture in one go. (We didn't own designer furniture.)
Selling tips from others
Some downsizers have had success selling their possessions via a 'stuff blog' (posting photos of all of their for-sale items on a website) or making a 'stuff page' on facebook and sending the link to all of their friends.
Others have turned their apartment into a garage sale by putting price tags on everything. Then when someone came around to pick up an item– they would ask if there was anything else they were interested in.
Calculating storage costs
The Shurgard website indicates how much it will cost to store your belongings via a space calculator.
For example, storing a two-person couch plus salon table near to where we live would cost upwards of 40 Euros a month.
Note; it is possible to find cheaper storage units in rural areas.
Curver plastic storage boxes
Garages are known to flood and attics are often full of mice and insects. So plastic crates with lids are a better way to go, at least for the boxes that will be sitting on the floor. Plastic boxes also hold up better when they are stacked one on top of another.
Print out large labels with your name and e-mail address on them and stick them on all sides of your boxes.
We stored our boxes in a girlfriend's attic alongside her belongings and other people's stuff. (Her attic was the storage depot for a whole slew of friends). Every time our friend needed something, she would rummage through all of the boxes searching for it. But she left our boxes alone since they were labeled. Plus if something happens with the person whom you are storing your boxes with (such as they have to move house) other people will know who your boxes belong to and can contact you.
Label the box that contains extra winter/summer clothes.
A couple of times during our trip we ended up back home for a week. We wished that we had labeled which box contained our extra clothes. That would have saved us the effort of opening every box looking for them.
Label the box that contains replacement camping and cycling gear.
If you need some replacement gear sent to you, it's much easier for your mom to find it if she only has to rummage through one box.
On our stuff
Now that we've been back some time, we still can't think of anything we got rid of and now miss. Even today, we can't remember most of the stuff we purged!
In fact, many of the things we stored during our trip, we ended up getting rid of shortly after coming back.
Is it because we've become extreme "non-hoarders"? Not really. It turns out that that's quite common with people who have downsized before their trip. Other cyclists also spoke of opening their 10 storage boxes and looking at half of their stuff thinking, "Why did I save this?"
We went from living in a 100m2 house to a 30m2 apartment afterward. We love our new apartment, even after living some time in it.
But we do know other people who were forced to downsize from 200m2 to 100m2 homes. They still feel depressed about having to move to smaller living quarters.
Why do we feel different from them? During our RTW trip, we lived out of bike panniers and a 3-person tent. So, our new 30m2 apartment is a real step up for us qua space and luxury.
And we also enjoy the lower living costs of rent and utilities. As another 'downsizer' said, "It seems insane now, to pay for larger and larger living spaces just to store our stuff- but that's what we did."
---

Myanmar has just been added to our list of destinations.
It's a country full of golden temples, Buddha statues and curious, friendly people.
---

Ben is a multi-award winning filmmaker, adventurer, and photographer based in the UK. He spends his time travelling to some of the world's remotest corners under human power in search of wild and diverse adventures and experiences. Most notably he recently completed a three-year bike around the world, a journey which has been featured by the BBC, GQ, Red Bull and The Yorkshire Post amongst others. His highly acclaimed films have appeared in more than 30 international film festivals and won numerous awards. www.benpagefilms.com
---
Ahhh, Bangladesh! One of our favorite countries on earth.
It's the capital of bicycle (rickshaw) culture and also a great place to travel through.
---

Heike aka 'Pushbikegirl' is from Heidelberg, Germany. She's pedaled over 50 countries, 75.000 Km. and her current tour started in May 2013. Before 2013, she only left for months at a time, with the one exception of an 8-month solo trip across the desert of Australia.
Heike writes:
I love remote places, the further away from civilization the better. I also love dirt roads and trails, but I don't stick to them for the sake of it. If a paved road is traffic-free, I enjoy it just as much. Open skies, deserts, mountains and campfires make me happy.
The longer I was on the road the slower I went. Kilometers aren't important, whereas people, nature and adventures are.
The bike is simply my form of transportation. I don't use it to break records, but to dig deeper and come closer to the diversity the planet has to offer.
I also avoid routines since variety is the spice of life. Challenges are what keep me going and freedom is my biggest pleasure.
I prefer to only use planes and public transport when needed but have since become more relaxed with that rule.
I also explore more than the 'greatest cycling' destinations. I want to see the full range the world has to offer. This means visiting the so-called 'boring' places and forming my own opinion about them.
---
Internet is full of round-the-world travelogues. But how do the riders manage to get the funds together for multi-year tours you ask? After meeting a number of long distance cyclists. Plus having had contact with many more via being editor of
Bicycle Traveler magazine,
I've laid out some of the more popular methods on how they managed to get together the necessary bucks.
---
Thailand and Laos have just been added to the list of destinations.
Plus we've added two new photo galleries of our favorite cycle touring and bicycle culture images from around the world.
---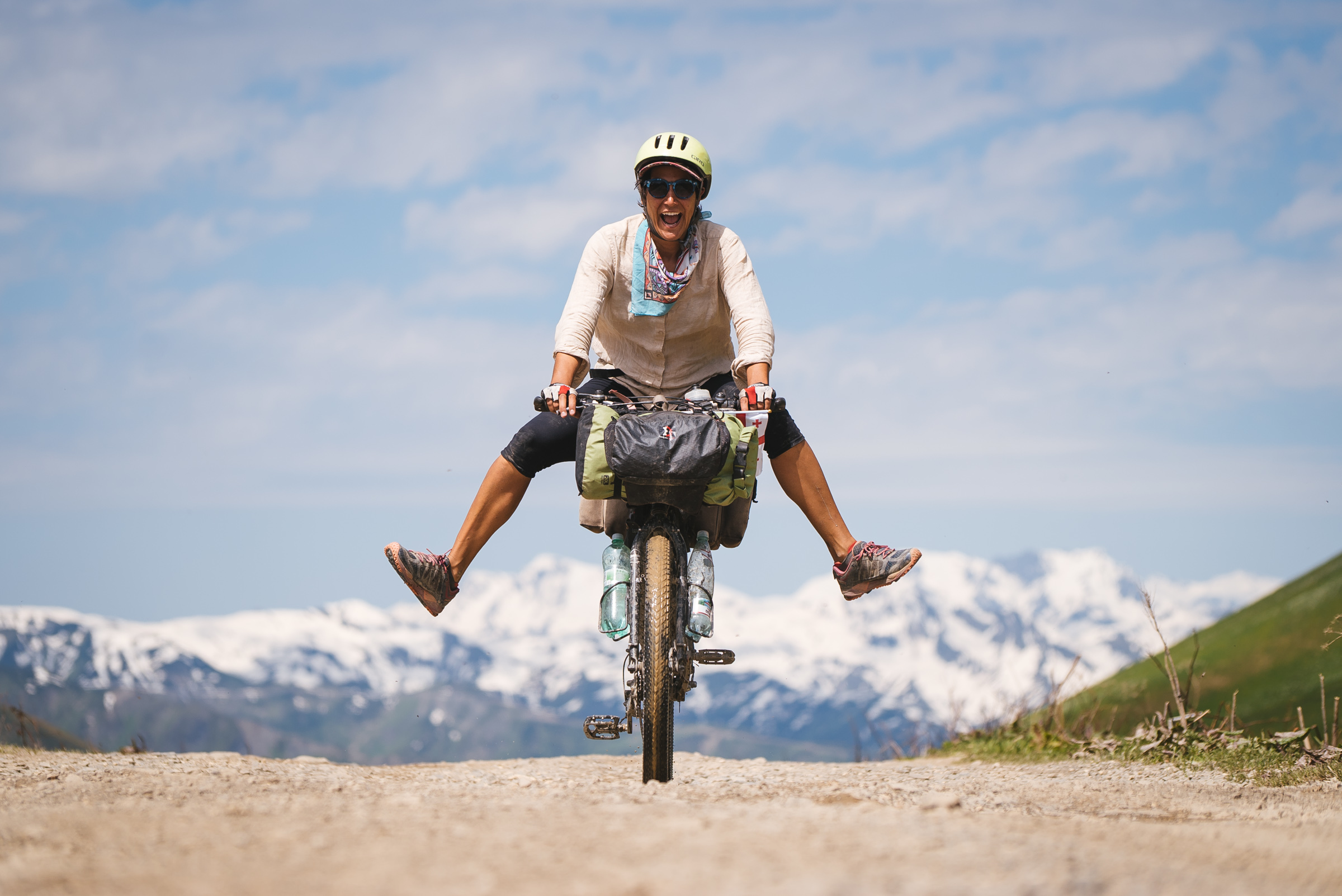 In the spring of 2016, Eric Timmerman and Olivia Cuenca set off to ride their bicycles around the world.
In attempts to stay away from pavement and traffic as much as possible, they searched for jeep tracks, single track, and dirt roads that weave through the mountains leading to places less explored.
---
At long last, Argentina has been added to our list of destinations.
The never-ending Ruta 40 led us through this country.
Accompanied by a playlist of road trip songs that played through our heads – the miles flew by.
---
We've just added a new destination to the site, Bolivia!
Cycling the Salars was one of our all-time favorite experiences.
Who can resist pedaling through such a surreal landscape?
---
We've just added a new destination to the site, China!
China is what bicycle touring is all about, adventure.
Even though we couldn't communicate, read signs or even identify what we were eating, we just jumped in.
We passed sidewalks filled with dancing office workers, street cleaners in high heels and pedaled through some of the most gorgeous scenery in the world.
---

I'm Dutch, born in 1972, and love adventure in the form of traveling and diving deeper and deeper into this beautiful place called Earth.
As a little girl, I liked nothing more than building huts, following arrows chalked on the ground, painting, queerly dressing up, playing outside and discovering all that's surrounding me, often resulting in me being lost and bruised but shining with new observations. Nothing has changed ever since.
On holidays my parents hung a little green army backpack over my tiny shoulders and off we were, on the hills in Austria, finding our way between grazing cows, all the while thinking about the banana in my backpack, until I forgot about it, being dipped in nature and it's beauties.
I studied art (drawing and painting for advertising design) and fashion design. Those were 6 great years in Antwerp, Belgium. I managed to work 3 years as a photographer before I realized this was not it for me…
My desire to wander into the vast world has never changed. It has always been my dream to travel, to admire, the be in awe by nature, to witness, to find out, not to start a family nor being a mother, neither being confined to one space. Restless? Perhaps. For many years I took public transport until I noticed what I missed out on, and after having been to many countries, I started to save money for a new adventure: riding the world on a bicycle.
I haven't had one minute of regret, for me, this is the ultimate way of traveling. Slow enough to plunge in the countries atmosphere, fast enough to make a decent amount of kilometers. Definitely not the easiest, but far out the most rewarding!
http://cyclingcindy.com and  www.instagram.com/cinderellaservranckx
---

Originally from Argentina, I am a photographer and architect who travels the world by bicycle, specifically around remote regions. I pursue the cultures and sub-cultures that in one way or another resist the globalization process, either by deliberately trying to preserve their traditional values or by being marginalized by the system.
I've traveled in 88 countries (and counting) and each one has left something in me that in one way or another has contributed to shaping the person who I am now. This remains to be an on-going process as I move around the world.
Visit his photography website.
---
Mike talks about his past journey through South America and the Indian Himalaya:
"It is fair to say my trip has had many twists and turns. It has challenged me physically and mentally and forced me to question some of my own preconceptions and ideas.
When planning this journey I dreamt of cycling big distances and the daily physical toil of life on the road. Yet the lasting impressions and memories are not the miles ridden but the people I meet, the places I linger and the beauty of nature. The simple joys of travel.
Spending increasing amounts of time behind a camera the photographic element of the journey has become as important to me as any aspect of the journey, a visual means of communicating and sharing the journey with others."
Follow Mike's photographic journey.
---